​This is the link to Eddy Bowman's Album posted on FB of the Spa City Bop Club's 20th Anniversary Party. https://www.facebook.com/media/set/?set=a.5822844414412682&type=3

Spa City Bop 20th Anniversary pix click on pix.

2022 DITP Events Videos of Rick & Sarah - Mike & Kim Pix - click on tab above - 4 Albums

Valentine 2022 Album


Christmas 2021 Album


Halloween dance album - Click to see the album


Click on pix below for Album of our Honoring 20th Anniversary of 9-11.

Click on pix below for Album of the Razorback Tailgate Dance

Click on pix below for Album of Disco Fever Party 2021 7 30

Click on pix below for Album of 2021 5 28 Red/White/Blue Dance.

Click on pix below for Album of 2021 5 14 Dance.

​Click on pix below for Album of 2019 DITP Derby Dancin' fun - pix by Eddy Bowman

Click on the above pix for Eddy Bowman photos from 12 11 2020. Big thanks to Eddy!

Click on pix for Album
12-11-2020

The 2023 dance calendars will be out soon but here is what is lined up for January 2023.
As always we thank all the folks who volunteer their time and effort to making our dances a fun and friendly experience. Please share info with those who do not have emails/FB/web.

2023 Spa City Bop & Swing Club Board of Directors
President - Dennis May
Vice President - Sue Thompson
Secretary - Donna Blackwood
Treasurer - Sheila Goslee
Parliamentarian - George Fehrenbacher​

A great big thank you note to all who participated in our club's exciting 20th Anniversary Party!
Scroll down for more upcoming events.


The Barrett Center has a great food menu from 6 to 8 pm.
Map is shown below on this page. Sometimes the GPS just will not take you there! LOL.
If you know someone who is NOT getting emails - please send via email with their NAME and email included. Send to ginjohn90@hotmail.com


Address: Spa City Bop & Swing Dance Club, PO Box 4309, Hot Springs, AR 71914


Hello Spa City Bop Club Members!
Firstly, what a wonderful 2022 Dancin' in the Park!! I have had nothing but positive feedback and many "thank you" messages sent to the whole club for a job well-done. What a fun dance event! We appreciate all those who were able to attend and missed those who could not be there. Thank you, as well, to everyone who volunteered to make this weekend possible. It has been in the planning stages for months; and there wasn't "a stone left unturned"!! We could not have had such a successful DITP without YOU!!
Secondly, we will be having a very IMPORTANT MEETING of all Spa City Bop Club members on Friday, May 27th, at 6:00 PM, before our scheduled dance. We cannot encourage you enough to attend this very special meeting to discuss some pending issues facing our organization. If possible, mark your calendars and join us on May 27th.
Thank you again for your continuous support of this awesome club!
Ginger Johnson, President


Spa City Bop Club's 19th Anniversary was a great success due to many people. I did forget to mention so many things last Friday night in the announcements. I am posting my gratitude to a fabulous bunch of dance friends that always have my back. Without them nothing like the Disco Fever party could ever happen. You folks are THE BEST. Everyone read the note below and the next time you see these folks, tell them that THEY did a tremendous job!

---

IWe meet at the Barrett Center (old VFW). Barrett Center is behind the KOA campground on McClendon Rd. Official address is 2231 E Grand Ave Hot Springs, AR 71901 But lots of GPS devices cannot find it. Scroll down to see directions coming from LR and directions coming from downtown HS. From any direction - take EXIT 4 on US 70. Barrett signage is small - look for it!
Barrett Center has a great food menu - they serve food from 6 - 8 pm. The BAR is open from 6 til end of dance. All drinks must be purchased from the BAR. Reservations are not required but very helpful in planning. Text 501.412.6016 or email ginjohn90@hotmail.com with names of those at your table. Masks are no longer required! If you do not feel well, please do not attend.
The Barrett Center will be taking food orders from 6pm until 8pm. Doors open at 6pm.
There will still be social distancing at the Bar when ordering food and drinks. Tables will be continue to be 6 feet apart. But no masks required! Yea!
Attention Spa City Bop Club Members & Spa City Bop Club Friends -
Doors open at 6 pm - Bartender on duty at 6 pm (cannot serve before)
​​
Thank you. Ginger Johnson ginjohn90@hotmail.com 501.412.6016 (text)

IF YOU ARE NOT GETTING OUR EMAILS - PLEASE CONTACT ginjohn90@hotmail.com or Text 501.412.6016
Attention Spa City Bop Club Members & Guests


Guests are welcome.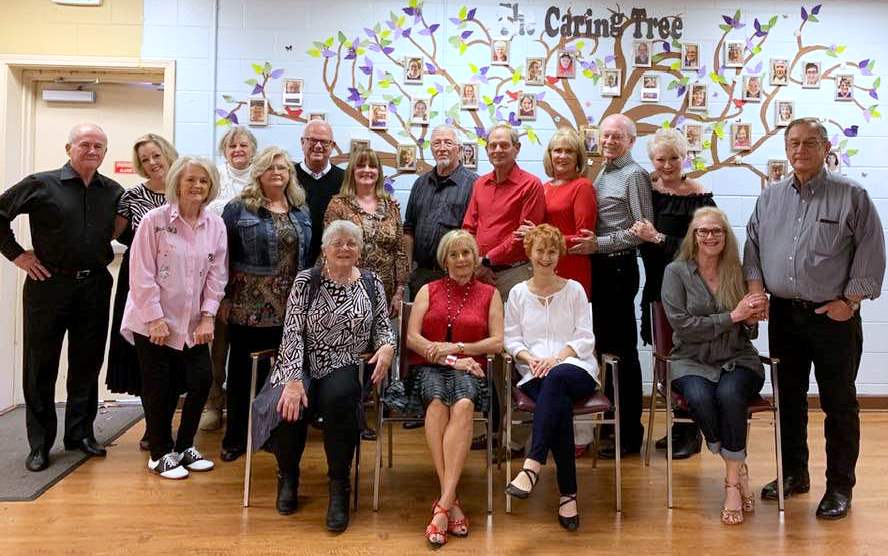 ---
Click to go to album



14th Anniversary & Prom Pix - click on pix below.

Thanks again to Eddy Bowman for creating this great promo for our club!
DANCIN' IN THE PARK - 2016
ROARING 20s FRIDAY NIGHT - click pix to go to album


SEND YOUR DANCE PIX TO

ginjohn90@hotmail.com OR post them on Facebook to be copied.


OR BRING YOUR CAMERA, SD CARD, OR DISK TO THE NEXT CLUB DANCE AND SEE GINGER JOHNSON.
---